In the wake of Covid-19, government has imposed strict measures in response to the pandemic, including intermittent lockdowns on most shops and businesses. This has severely impacted the livelihoods of many small-shop owners, workers and daily wagers. To help save lives and livelihoods and provide relief in the Covid-19 crises, Empower Foundation has been working tirelessly at the grassroot level.
Empower Foundation started the Covid-19 relief and welfare work in February 2020. To ensure support is extended to maximum number of people, Empower Foundation has adopted two streams of distribution – one, through various non-profit organizations and two, through its employees.
The first stream involves collaboration with various organizations such as Orange Tree, The Robinhood Army, Deaf Reach, KDSP, Indus Hospital and Idara Al-Khair. Through these organizations, Empower Foundation is distributing masks, protective suits, food supplies, sanitizers, soaps, gloves, thermometers, medicines etc.
Idara Al-Khair is a non-profit organization and provides free education to underprivileged children, mainly at the outskirts of Karachi. These students are mostly children of daily wagers (mazdoors) and come from extremely impoverished backgrounds. Through the collaboration with Idara Al-Khair, Empower Foundation has provided more than 500 ration bags to the families, and plans to distribute around 1,000 more.
The second stream of distribution is through the 350+ network of 10Pearls' employees. Through this distribution mechanism, food supplies have reached far and wide – with special focus on slums, mid and low-income areas – and has impacted over 5,000 lives till now.
According to a volunteer residing in Gulistan-e-Jauhar area of Karachi, "It was heartbreaking to see daily wagers sit idle, bent over with worry on how to put food on the table. I am humbled to be able to provide food to them through the help of Empower Foundation. The relief on daily wagers' faces when they got a month's ration is inexplainable."
Empower Foundation plans to continue the drive and support over 100,000 lives.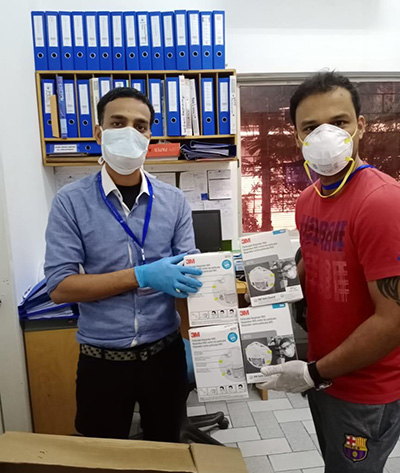 It takes coordinated effort to roll back a global scourge. The nation has united, and it must. There is no doubt that what we are living through will transform the world. It's imperative for everyone to come together, build up on each other's strengths and together fight the economic crises.